SUSTAINABLE SUNSHINE COAST HOUSE DESIGN TIPS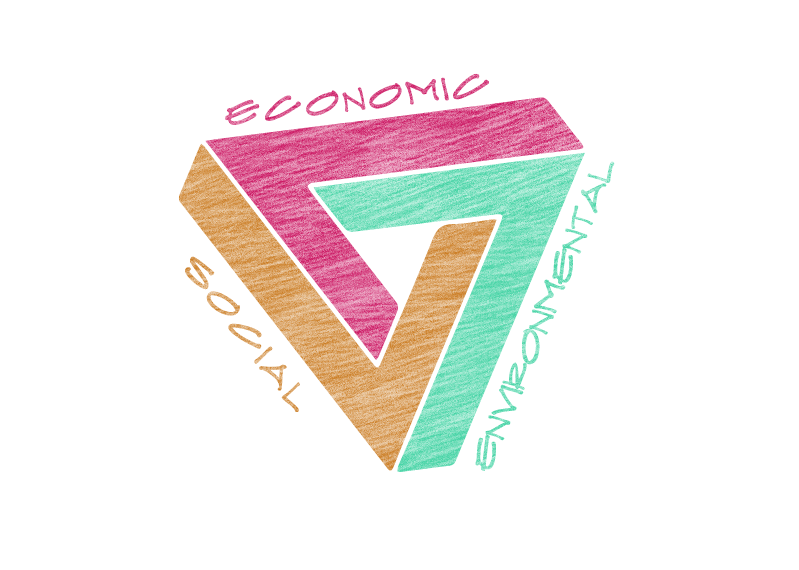 Designing a more sustainable house will contribute greatly to achieving social, economic and environmental, benefits for the household, neighbourhood and the broader community. This triangle of importance is referred to as the triple bottom line principal (as per diagram). The goal of the sustainably conscious designer and home owner should effectively be to achieve a holistic balance across these three categories as all are equally important.
SUSTAINABLE HOUSE DESIGN: ENVIRONMENTAL ASPECTS
Ecologically sustainable homes reduce environmental impacts by incorporating features such as passive solar design, rainwater and grey water collection, energy efficient hot water systems and materials selected for the local climate and availability. The design of a sustainable or eco house needs to incorporate the following:
The house design exploits the use of natural energy and decreases the reliance on non-renewable energy. The house design is incorporates simple passive solar design features such as the way in which the home is orientated to mitigate solar exposure in summer and increase solar exposure in winter (this can be achieved also with the use of deciduous landscaping) ventilation, insulation and shading, suitable use of constructions materials, to guarantee more energy efficiency and in turn reducing needless carbon emissions.
SUSTAINABLE HOME DESIGN: WATER USE
The design of the house and related outdoor areas, including its fixtures, fittings and appliances, reduces water consumption. Waste water is treated on site in a grey water type system and re-used for non potable purposes such as irrigation and landscaping. Permeable surfaces such as porous driveways are included in the design in order to mitigate flood events and reduce the amount of water diverted into storm water the knock on effect of deluges of storm water being diverted into creeks is the measurable increase in concentrated nitrogen present in this off run which can have adverse effects to local biodiversity of creeks and streams.
SUSTAINABLE BUILDING  DESIGN: MATERIALS AND WASTE
The construction of your house should takes into account efficient use of building materials, attempt to reduce waste where possible via efficient design strategies such as precise quantity surveying prior to construction and also working with standard lengths to reduce off cuts and associated waste, the use of recycled materials where appropriate is also another great way to decrease your foot print and at the same time add some instant charm and character to your new home design. Turning to places such as Yandina Demolition yard to find unique doors and windows or old massive beams salvaged from railway bridges etc can be a really nice inclusion from the standard sunshine coast generic house design.
The landscaping of your home should be considerate of the natural features of the site, including slope/ topography, the local climatic conditions and context, as well as not impacting the diversity and existing habitats of native flora and fauna. The site design where possible should attempt to retain existing native sunshine coast vegetation, including small trees, grasses and scrub. The landscaping should be designed to reduce water consumption this can be achieved through planting hearty native species which are drought resilient and require little water and maintenance.
Referenced:
Queensland Department of Public Works, n.d. Smart Housing Design Objectives. [Online] Available at: http://www.hpw.qld.gov.au/sitecollectiondocuments/smarthousingdesignobjectives08.pdf [Accessed 03 April 2016].
& www.sustainable-homes.org.au and www.smarthousing.qld.gov.au