Designing a house on a sloping block?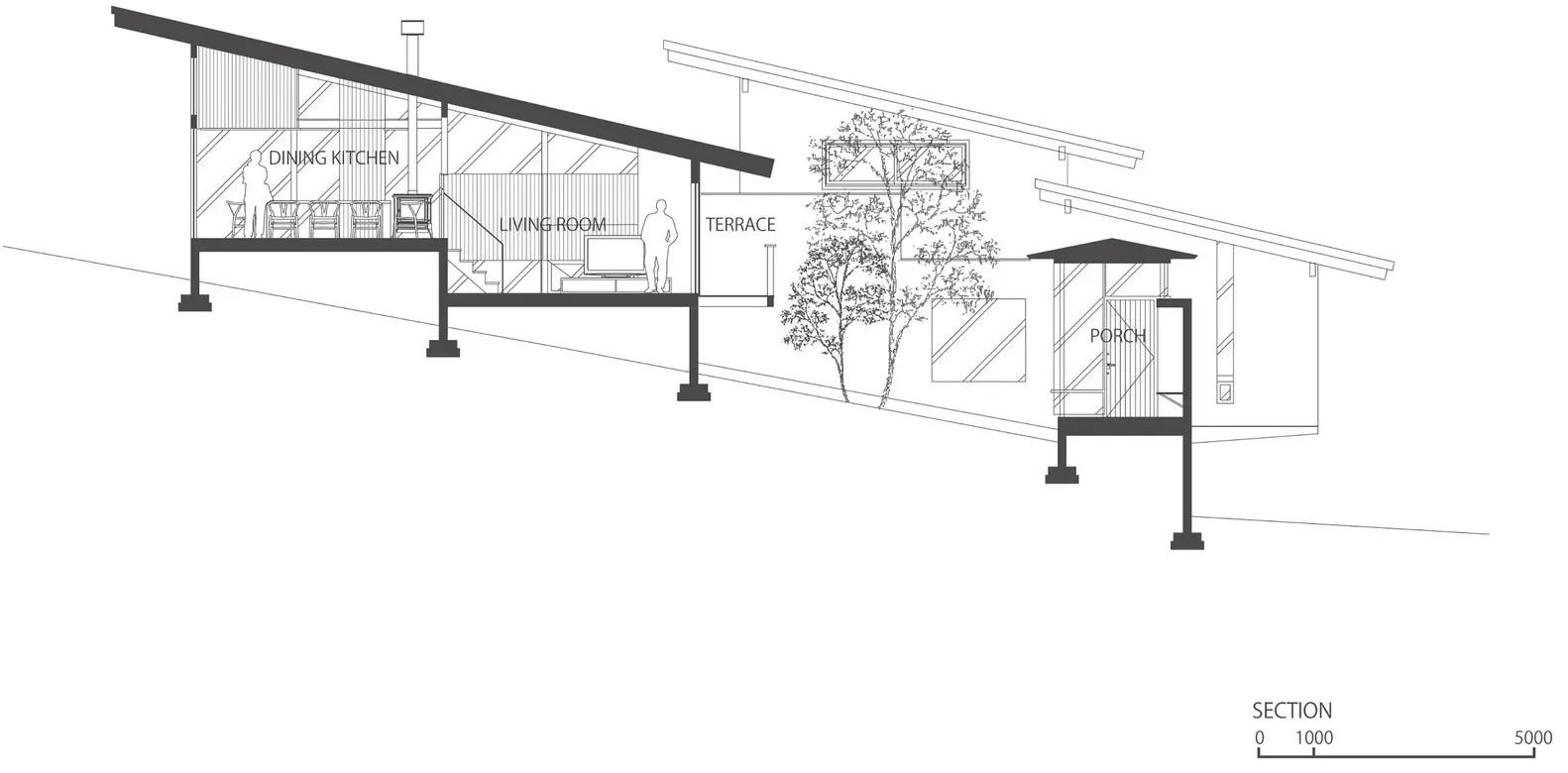 What are the implications of a Sunshine Coast house design on a sloping site?
A steep site is a very special kind of site; and it asks for a very special kind of house. This is not typically a place for the timid, for lovers of the conventional or the formal, for the lawn and garden lover.
You generally cannot have what most people think of as a "traditional house" on a steep hillside. It is an almost certainty a lot of ramps or steps will be a requirement. For the aforementioned reason a steeply sited house is not generally encouraged for elderly people or people with limited mobility. This being said it is possible with enough empathy and forethought to design a house on even a severe slope that caters to all users offering universal access by implementing the right design strategy from the onset.
The site itself is bound to have places to fall from, so it's not always the best place for small children. But if you are the right kind of family, and use common sense, the rewards of living on a steep site can be fantastic.
Typically, the steep site has a grand view either a tree house setting opening to views across the valley, or downwards to a rushing stream or a lake or even the ocean if you are lucky enough to have a block with that outlook.
Houses on steep sites can offer all kinds of exciting spaces tall rooms, cantilevered decks for outdoor living, rooftop sun-bathing platforms, soaring bridges leading to the front door. An entry across a "bridge" can also be part of an exciting arrival sequence.
The first and perhaps most overwhelming problem to overcome is creating a stable pad on which to position the dwelling. On a sloping site you can incorporate poles (timber, steel or even concrete piers) and build a tree house like structure suspended above the earth. Conversely on a sloping block you can cut and fill at least a modest pad for the foundation of the house (cutting and filling should be kept to a minimum if possible).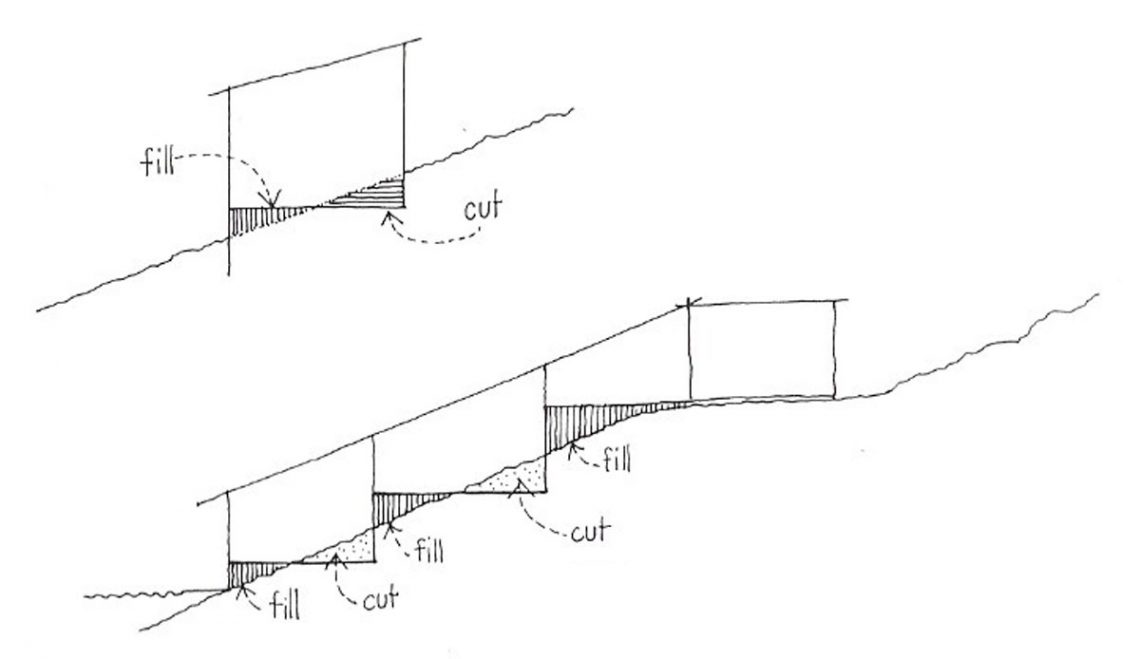 Another especially dramatic solution is to establish a series of small level spaces, perhaps just a single room size, cascading down the mountainside and connected by an internal stairwell leading from top to bottom. This kind of typology demonstrates rather spectacularly and in a very special way the general rule that it is important to minimise any disruption any cutting and filling of the site.
A generous sized home can be created by making the space up from a collection of smaller spaces, no excessive earthmoving or disruption of the site was required.
This "minimum disruption" methodology to "touch the earth lightly"can be met in a number of more conventional ways: one is to simply make the house vertical—to gain the necessary room space by going up to three stories (if possible in your area) instead of going out as you might on a flat site.
Another simple way maximise living space with minimum cutting into the hillside is to cantilever the upper stories over the foundation. Utilising this design technique a great deal of space can be added to a house and dramatic design effects created. (The psychologically precarious nature of an object hanging over the edge creates real intrigue).
Because of the special nature of houses designed for steep sites, there are not many set "rules" for the design of such houses almost by definition they need to be special and custom. You will however find a few characteristics which are universal in the housing typology examples shown throughout this post:
1. They tend to emphasise their verticality by the use of vertical cladding, by the use of tall windows, or by the use of strong vertical lines in the trim or expressed structural elements.
2. The slope of the hill tends to be mirrored in the slope of the roof and in some cases, by applying the cladding in the end walls at a complimentary angle to the roof pitch. These design devices tend to emphasise and support the strongest element of all the hill itself.
3. You'll find decks galore, again because it is often simpler and cheaper (and usually more spectacular) to extend floor beams outside and create a deck than it is to arrange sliding glass doors opening to the natural slope.
4. Perhaps the most spectacular possible detail and you'll see endless versions in this type of house is the entry bridge reaching out from the hillside near the parking area and extending across space to a door that might, in a house like this, be on the second floor.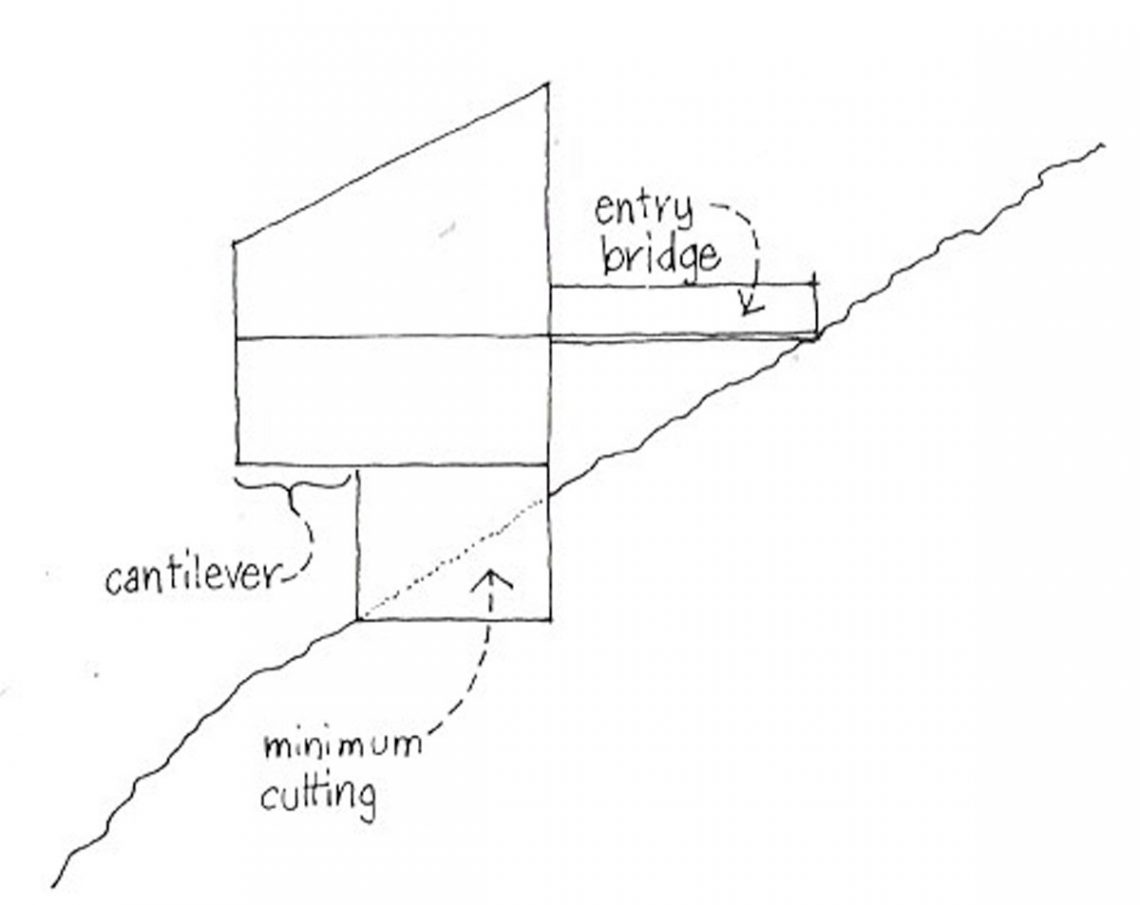 5. There are no hard-and-fast rules about what rooms go on what levels in a steep-site house. While convention dictates that living rooms,  dining rooms and kitchens are located on the first level, with the bedrooms above, it does not in fact have to be that way. In a scenario such as the above example home design, it would be possible to walk all the way down the hill to a front door on grade and then climb back up to living rooms.
The best view is likely to be from the upper level, so why not enter on top and utilise the downstairs area as a place to sleep?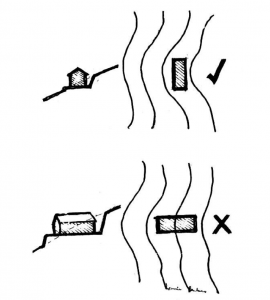 Additional implications of building a house on a steep site?
Increased construction costs both in terms of the requirement of engineered retaining walls and also need for cranes, extra high scaffolding edge protection etc.
Erosion problems, which increase requirement of more substantial footings / screw pier or even the opposite issue of excavation of subsurface rock can increase costs substantially as rock breakers can cost a fortune and be very time consuming.
Inability to adapt off the shelf project home plans which only generally work on flat sites ( If they work at all).
Homes designed for sloping sites should attempt to minimise excavation and incorporate split levels to mitigate the requirement for major earthworks by stepping gradually down the site or up the site (depending on block type). The design should be sympathetic to the existing natural topography working with the contours of the land rather than fighting them.  Avoiding enormous cutting and filling and large unsightly and often costly retaining walls should be the core take home message.
Steep slopes beyond 15-20 degrees are especially challenging to build upon. For these or greater slopes consider, suspended floors and simple post and beam construction in favour of traditional slab on ground construction. It is also possible to have hybrid typology where part of the home is sited upon a slab and the remainder is constructed using light weight suspended timber floor joists and bearers. If possible allow the foot print to step up or down with the site (depending on particular block if it is upward sloping or downward sloping.  Also consider access and orientation from the onset.
A home supported on posts with minimal cut and fill on a sloping site can reduce complications with groundwater run-off and erosion. This configuration can also allow the use of the under croft as parking or storage. It is important to consider what the underside of the house will look like both from the street and also your own backyard. Some people do not consider this and create what is referred to as a troll habitat. These often unsightly areas are ill considered and should be screened with a combination of shrubbery and battens both to ground the building to the site and to conceal plumbing and other ugly elements. Some houses float above the site with plumbing pipes exposed and look ill conceived.
The upside to screening these areas is the ability to use this space for storage of items such as bikes, kayaks, mowers etc which otherwise take up room in a shed or garage.
What are the benefits of designing a new home on a sloping site?
A sloping site can also be an advantageous element. An angled block can offer opportunities, which are not possible on a standard flat block.
Ability to capture the best views of the coast and harness the local sunshine coast cooling breezes in summer.
The ability to incorporate a garage, carport or even storage bellow cheaply.
Enhanced sense of privacy or visual amenity (both psychological and physical)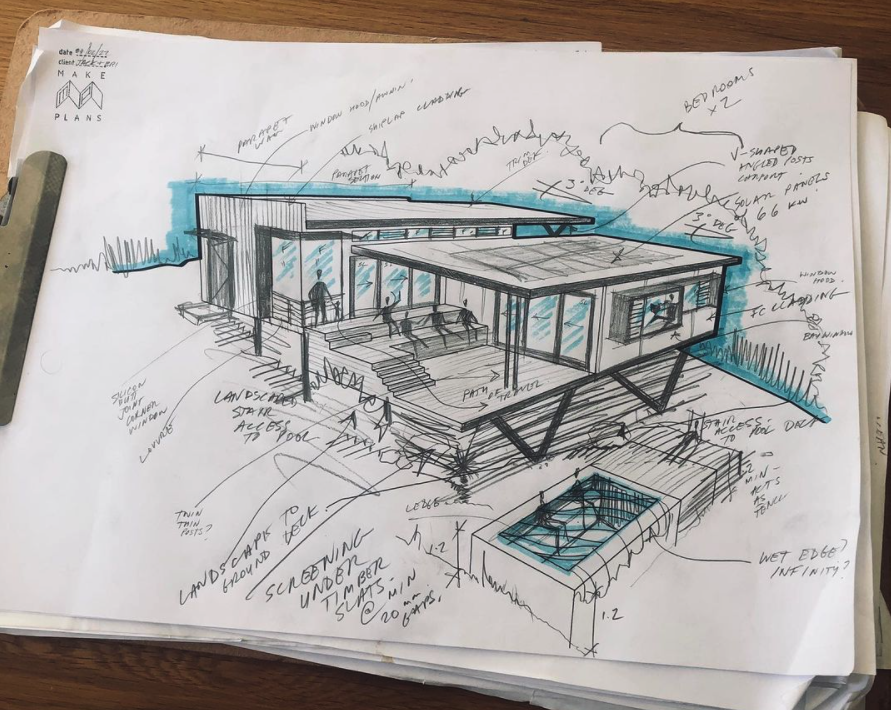 The above is a concept for a current project on a steepish site in Agnes Water 1770 it takes advantage of the ocean views to the north east and steps down the block. The idea is the main living area is on the upper section and the bedrooms on the lower with every room given a view of the ocean.
(above) House in Sayo
By Den Nen Architecture
Excellent example of appropriate design for sloped site (not on the sunshine coast). The design is reminiscent of a small rural cabin I designed many years ago in the Noosa hinterland
Final observations to consider.
Builders are generally wary of difficult sites such as steep sloping blocks, both for the access considerations when building and also the hidden cost implications of construction on a severe slope such as; unknown footing requirements and slab requirements, if the soil test is to come back as a problematic or highly reactive soil type. This could translate into expensive piers required throughout the slab and or especially deep and wide footings.
Builders will either avoid entirely or charge accordingly to cover themselves from the risks associated with such a site.
It would be worth undertaking a soil test and site classification as part of your due diligence when purchasing a site such as this and perhaps consulting a structural engineer (if only for a brief conversation to discuss the implications of the soil report). Some people even go so far as engaging a specialist engineer to perform what is called a slope stability analysis report for the site and use this as a condition of purchase. This is somewhat costly and can range from around $800 – $1100 but considering the cost implications of massive footings or even the inability to build your dream home that is relatively cheap.
Some steep sites will require a slope stability report down the track anyway, as some council have slope hazard overlays that dictate this as a condition for approval.
NOTE: Please note that some of my blog posts, might come across as rambling, incoherent nonsense and that is purely because I did not write the majority of them, but rather dictated them into my iPhone or via OCR text conversion of old books ( It is not that I am insane) some of the auto corrects have not been corrected and make little to no sense I apologise for this.
A large section of the above copy has been gleaned (read partly paraphrased partly plagiarised) from a book I came across called Great Houses by Walter F Wagner that was published back in 1976 although the times and techniques have evolved since then, the basic concepts of steep slope sites still largely holds true today.
Please ignore the next section, it is purely intended to gain favour with the Google overlords for keywords and search terms such as: Noosa, Sunshine Coast, building design, building designers, house plans, sloping site, advice when building on a sloping site, Steep site considerations when building a new home on the Sunshine Coast, designing an affordable home on the Sunshine Coast.