Conversations with a concrete wall: Selecting the right materials for your sunshine coast home design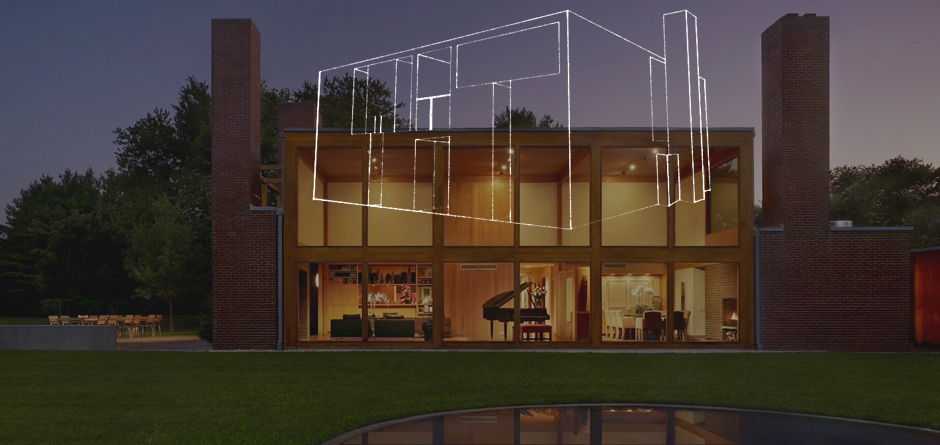 Korman House by Architect Louis Kahn  1971 (Pictured above).
KAHN! MATE!: SUNSHINE COAST HOME DESIGN & DRAFTING BASICS
There is a passage I came across recently in an old Dostoevsky novel called White Lights written in 1918 in post war Russia – almost 100 years ago in which the protagonist in the story talks about the crimes committed by local architects and his intimate conversations and imagined relationships with the inanimate neighbourhood houses. I could totally relate to this slightly eccentric character – I find myself often walking my dog around certain older areas of the sunshine coast observing buildings and talking to my dog, cursing the name of the troglodyte so called 'designers' and 'architects' who have butchered a potentially nice old home in the name of 'renovation'. It seems all too often additions and renovations are so ill-considered in terms of creating a holistic house, but rather little trend-based trinkets and ill-conceived add-ons pasted from Pintrest, which do not work together and create an ugly pastiche of various styles and eras, Frankenstein facades, Rorschach-esque roof lines and a patchwork of patterns, competing textures and materials creating a type of anti- camouflage or perhaps high vis-housing is the more appropriate axiom.
"They are painting me yellow!" The villains! The barbarians!
"As I walk along [the houses] seem to run forward in the
streets to look out at me from every window, and almost to say:
"Good-morning! How do you do? I am quite well, thank God, and I am to
have a new storey in May," or, "How are you? I am being redecorated
tomorrow;" or, "I was almost burnt down and had such a fright," and so
on. I have my favourites among them, some are dear friends; one of them
intends to be treated by the architect this summer. I shall go every day
on purpose to see that the operation is not a failure. God forbid! But I
shall never forget an incident with a very pretty little house of a
light pink colour. It was such a charming little brick house, it looked
so hospitably at me, and so proudly at its ungainly neighbours, that my
heart rejoiced whenever I happened to pass it. Suddenly last week I
walked along the street, and when I looked at my friend I heard a
plaintive, "They are painting me yellow!" The villains! The barbarians!
They had spared nothing, neither columns, nor cornices, and my poor
little friend was as yellow as a canary. It almost made me bilious. And
to this day I have not had the courage to visit my poor disfigured
friend…" Dostoevsky,F. (1918).
ARCHITECT LOUIS KAHN TOLD HIS STUDENTS TO TALK TO THE BRICK ASK HIM FOR ADVICE:
Another famous figure referred to by some as 'the great brick whisperer' is famed architect Louis Kahn* who was known to talk to his buildings and converse with the concrete. Kahn purportedly advised his pupils at Yale: if they were ever lacking inspiration, to ask the materials themselves for advice. Kahn is famously quoted as saying "You say to a brick, 'What do you want, brick?' And brick says to you, 'I like an arch.' And you say to brick, 'Look, I want one, too, but arches are expensive and I can use a concrete lintel.' And then you say: 'What do you think of that, brick?' Brick says: 'I like an arch". I can just imagine Louis holding a brick up to his face and having a little chuckle to himself.
*Kahn is potentially just as famous for being a skulduggerous adulterer with multiple mistresses and illegitimate children to boot.
AVOID THE 'BLUE BOARD FRAUD' AND OTHER COMMON CHEAP TRICKS OF SUNSHINE COAST DRAFTSMEN, ARCHITECTS & BUILDING DESIGNERS
I am not suggesting that people strike up deep and meaningful dialogues at Bunnings with their potential new doorknob, but at the very least consider the concept of taking time to select materials and be cognisant when considering your home as a whole and not just indivdual rooms, simply adopting the less is more, pragmatic approach to designing your home is something which should definitely be heeded. The biggest local crime in building design on the sunshine coast over the past few decades I feel is the blue board epidemic, where solid looking houses, that from a distance appear as though they are solid masonry structures but are in actual fact rendered blue board, hollow shell houses, when you knock on the wall it echoes and reverberates inside like some kind of Disneyland castle constructed of fibreglass and body filler painted to look like stone. Sure it saves you money and from a distance looks almost identical but it's a false sense of saving money really, when you consider in 5 years down the track cracks have started appearing and the render chipping off and your dirty little secret is on show for the neighbourhood screaming 'fraud!" If your house is made of bricks you shouldn't need to disguise it, embrace it you will no doubt save money and at the same time create a more authentic, functional place to call home.